Scottish Music CD
Peter Macfarlane (Fiddle)
&
Lilian Linden (Piano)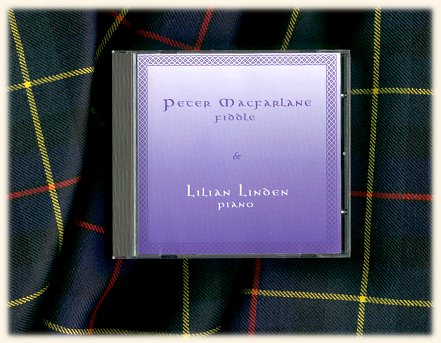 In 2003, Lilian released a CD of original Scottish music, written and recorded by Peter Macfarlane and Lilian Linden, and played on fiddle and piano.
"A real joy from start to finish, with cracking tunes to listen to and for dancing. A most enjoyable recording!"
Review in Box and Fiddle magazine, National Association of Accordion and Fiddle Clubs, October 2005

"There only being the two musicians on each track gives a fresh clean sound. The tempos are steady throughout and the tunes very exciting and inviting. I would recommend this CD as a must-have in every dance teacher's collection."
Review in Dance On! magazine, October 2005

"...tight, highly musical... In a word, these are new "classics", written and composed in the traditional style. The set of 4 x 32 Slow Air strathspeys on the album is meltingly beautiful. The jigs (two 8 x 32 sets and one 4x 32 set) have wonderful lift and are effortlessly tuneful."
Review in TACtalk magazine, Teachers' Association (Canada), December 2004

"... a very delightful CD composed entirely of their own tunes ... sets of reels, strathspeys and jigs of various lengths suitable for dancing. There are also some nice listening tracks."
Review in The Reel magazine, September 2003
Most tracks are arranged in sets for dancing, and include Reels, Jigs, Strathspeys and Waltzes. The CD also includes two Slow Airs for listening.
| | | | |
| --- | --- | --- | --- |
| 1 | Reels | | 8 x 32 |
| 2 | Jigs | | 8 x 32 |
| 3 | Slow Air Strathspeys | | 3 x 32 |
| 4 | 6/8 Marches | | n/a |
| 5 | Strathspeys | | 4 x 32 |
| 6 | Reels | | 3 x 48 |
| 7 | Slow Air & Waltz | | n/a |
| 8 | Reels | | 4 x 32 |
| 9 | Jigs | | 8 x 32 |
| 10 | Slow Air Strathspeys | | 4 x 32 |
| 11 | Polka | | n/a |
| 12 | Waltzes | | n/a |
| 13 | Jigs | | 6 x 32 |
| 14 | Reels | | 8 x 32 |
| 15 | Slow Air | | n/a |
The CD costs £10.00 (+£2.00 p&p in UK, please enquire for international postage rates). To order, please contact Lilian Linden as follows:
E-mail: lilian.linden@virgin.net and invercauldband@googlemail.com
Telephone: 01534 789817
Mobile: 07829 722446
Tel. from outside the UK: +44 1534 789817
Return to Top